Pangaea have recorded a new album - listen to some excerpts below.
If the buttons don't work (eg on a mobile device) click on the title links.
CD now available for £7 (inc. p&p). E-mail me to arrange payment and shipping details.

Pangaea is a band I started in January 2010. We have recently re-formed and are now available for bookings.

I suppose World/Jazz is the most convenient category to describe what we do.
It's groove orientated, inspired by music from all over the place - Africa, Middle East, European folk, Afro-American, Latin America - allied to the experimental approach of some American jazz of the 60's such as Pharaoh Saunders, Yusef Lateef and Don Cherry amongst many others.


We can do sets which (I consider to be!) good to dance to, or ones which have a more intense jazz feel. Normally we do a bit of a mix. I am gradually adding some original material as the band develops.

Details of forthcoming gigs are available on this page.

The current line-up comprises:

Dave Ingham (saxes, piano, percussion)

Stephen Mynott
(guitar)

Vilem Hais (double bass)




Becky Waller (violin)

Azzy King
(drums)

Click on the pics to see them in their full glory. They open in a new window that should be closed to return to this page.

The late Dave Holgate was a founder member of Pangaea. His passion and enthusiasm helped make the Pangaea project possible.

Dave was very proud of his work with Pangaea and is on fine form on our current CD, which was his last recording.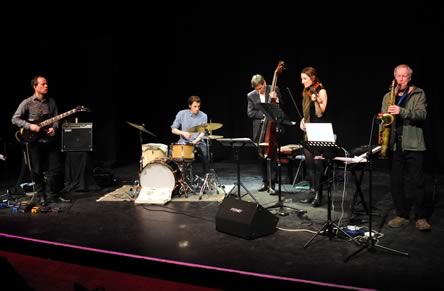 Pangaea on stage at The Cut in Halesworth.



Forthcoming gigs...
Saturday 27 January, 8pm
Pangaea at The Cut, Halesworth. Admission £10


Sunday 28 January, 3pm
Pangaea at the Stanford Arms, Stanford Street, Lowestoft.

Sunday 15 April, 3pm
Pangaea at the Stanford Arms, Stanford Street, Lowestoft.

Thursday 10 May, 8pm
Pangaea at the Rose Tavern, Rupert Street, Norwich.

Sunday 16 September, 4.30pm
Pangaea at the Lowestoft Jazz Weekend, Seagull Theatre, Morton Road, Lowestoft. Admission tbc.